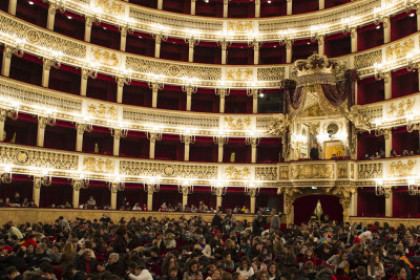 Pinocchio Opera made its debut in Italy selling out six performances staged between the 19th and 21st of February 2013 at the San Carlo Theatre in Naples, within its Educational season. 
The Opera was presented under the auspices of the Collodi Foundation, and received the precious collaboration of Piccolo Teatro di Milano.
Under the direction of Stefano De Luca, the production of San Carlo Theatre also proposed an excellent Children's Choir, directed by Stefania Rinaldi.
Thousands of children of all school levels enthusiastically praised the authors Gloria Bruni and Ursel Scheffler, who – together with the orchestra and author of the Italian libretto Lauro Ferrarini – took part in the premiere.